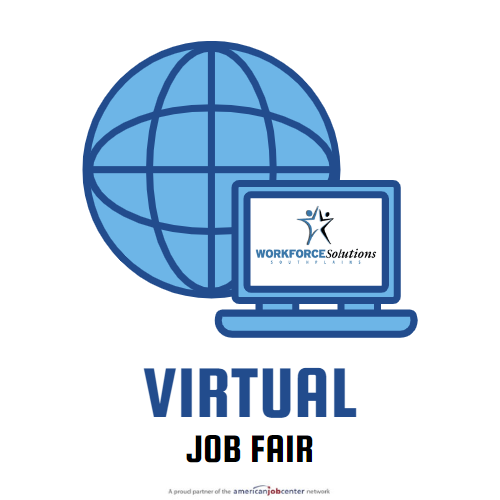 Virtual Job Fair
Workforce Solutions South Plains will be holding our January Virtual Job Fair on Tuesday, January 24 from 10am to 3pm. This hiring event is 100% virtual and completely free to attend!
This is an excellent opportunity to chat online with area employers and job seekers, discuss job requirements, go over resumes, and even schedule job interviews. You can come and go as you please in this virtual platform without having to worry about making it across town or where to park.
Employers
, click the link below to register and start creating your virtual booth, upload your company logo, and make sure to include any information that would make your business stand out to job seekers.
https://pvapi.premiervirtual.com/s/x30gpW
There is NO COST to attend! Your Future Starts TODAY!
Equal Opportunity Employer/Program.
Auxiliary aids and services are available upon request to individuals with disabilities. Relay Texas: 800-735-2989 (TTY) and 711 (Voice). This project is wholly funded with Federal workforce development funds. This document contains vital information about requirements, rights, determinations, and/or responsibilities for accessing workforce system services. Language services, including the interpretation/translation of this document, are available free of charge upon request. ​Este documento contiene información importante sobre los requisitos, los derechos, las determinaciones y las responsabilidades del acceso a los servicios del sistema de la fuerza laboral. Hay disponibles servicios de idioma, incluida la interpretación y la traducción de documentos, sin ningún costo y a solicitud.